Intelligently built for
the modern dental practice
A digital practice management software where best practice principles are the new standard.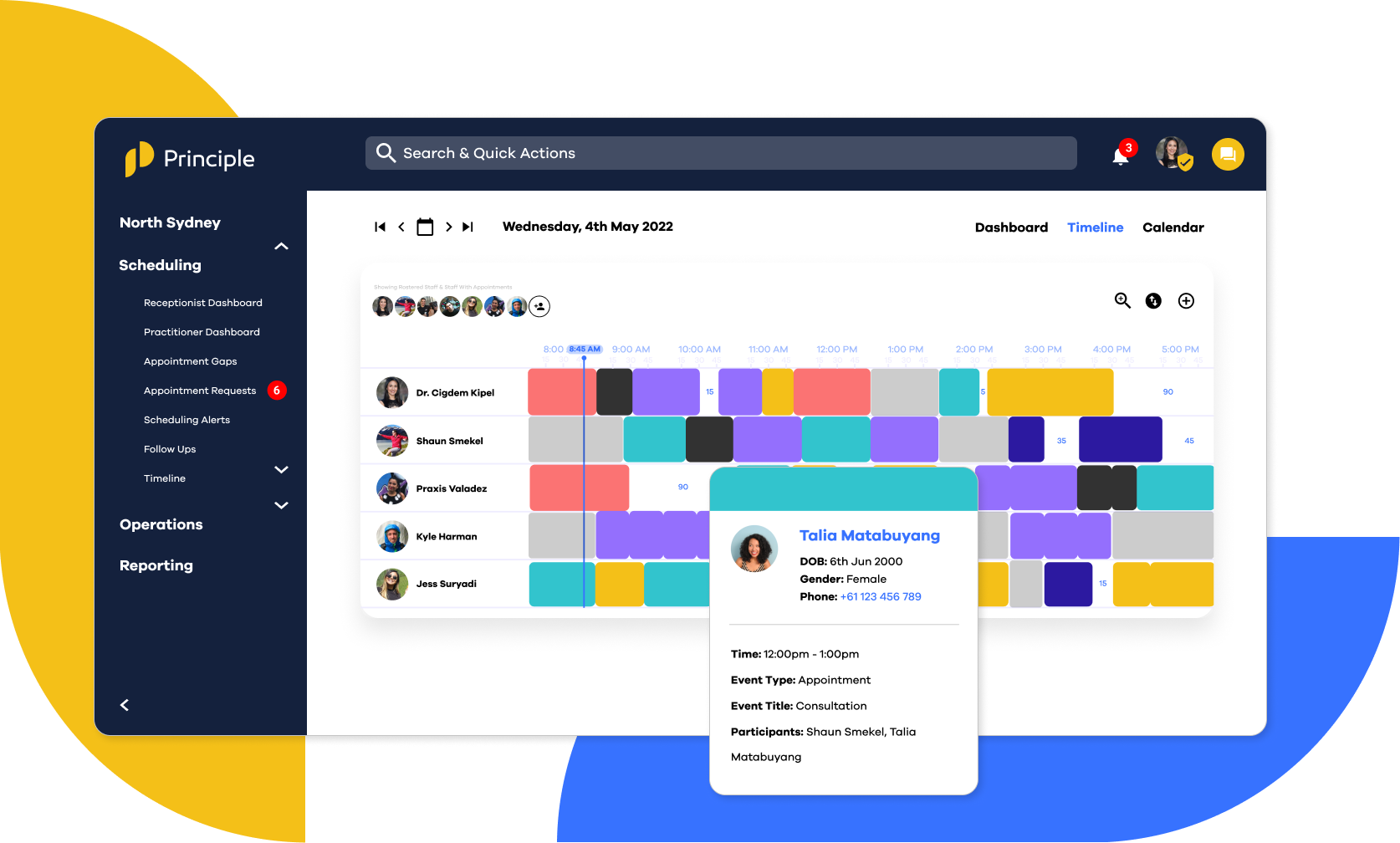 Designed from the ground up
.
An intuitive user experience you and your millennial staff will love and know how to use immediately. Just like social media, enjoy the convenience of live notifications, @mentions and direct messaging.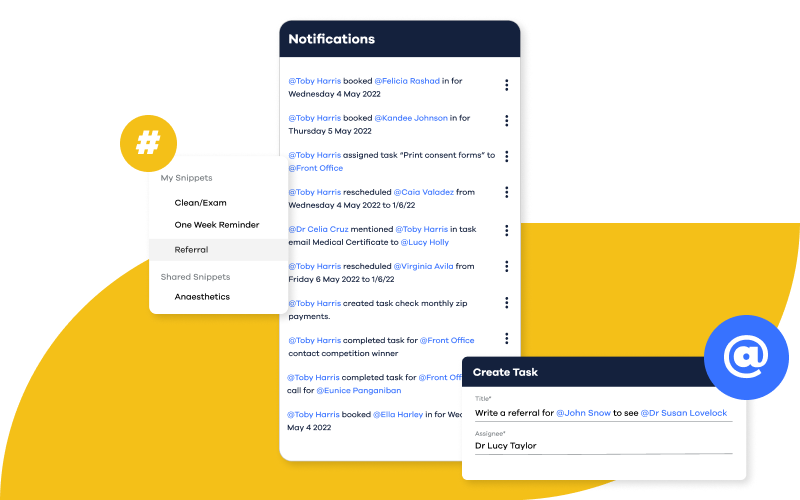 A Measure Everything Approach
.
Hundreds of data points feed into daily workflows creating smooth and efficient workdays for your team.
Reporting
Gain eye-opening insights through customisable reports allowing you to make connections and informed business decisions like never before.
Timeline
A modern approach to the calendar where the best available appointment is generated for your patient every single time.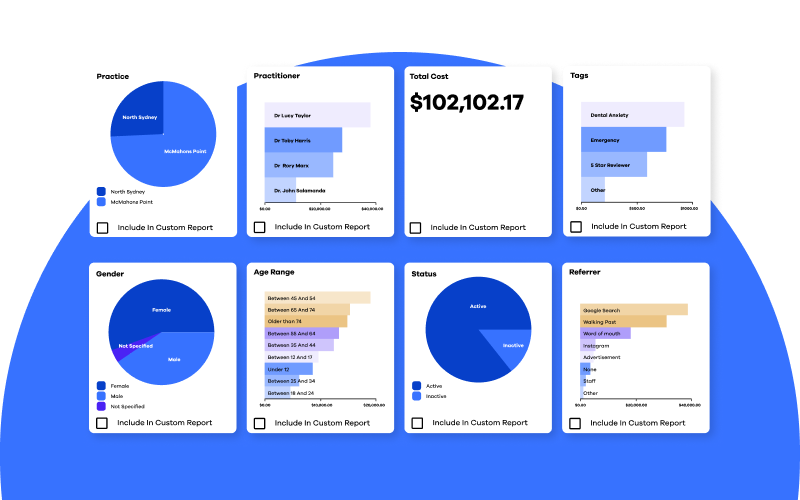 Customer Service Focused
.
Principle was purpose built to create stronger connections between you and your patients.
Appointment Card
Open the appointment card to see relevant patient information and use it to start your conversations. Alerts, quick actions, and appointment details available for you to act upon without leaving the page.
Interaction Timeline
Get full visibility of your patient's experience at the practice through their interaction timeline. See all communication, tasks, and account information in one place.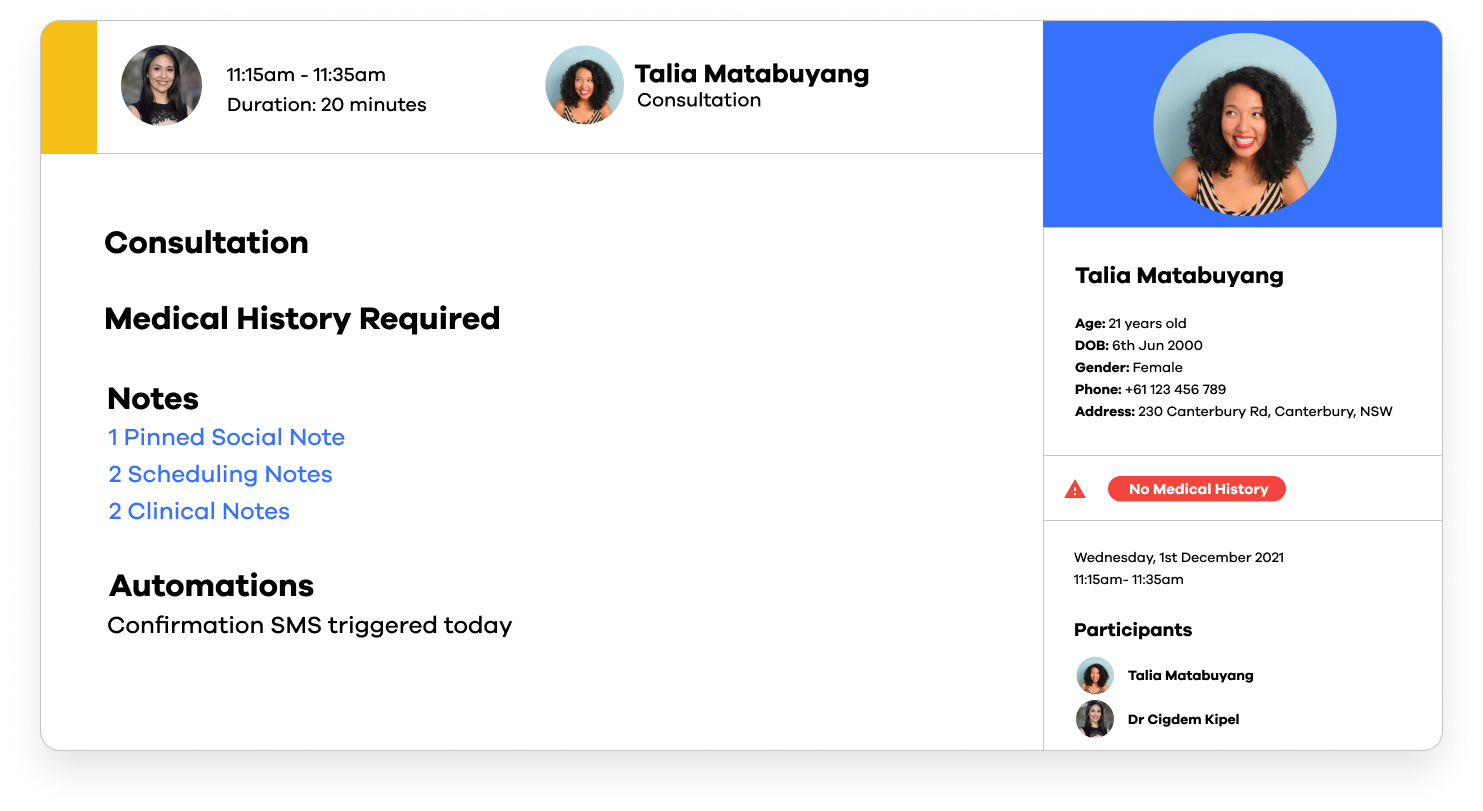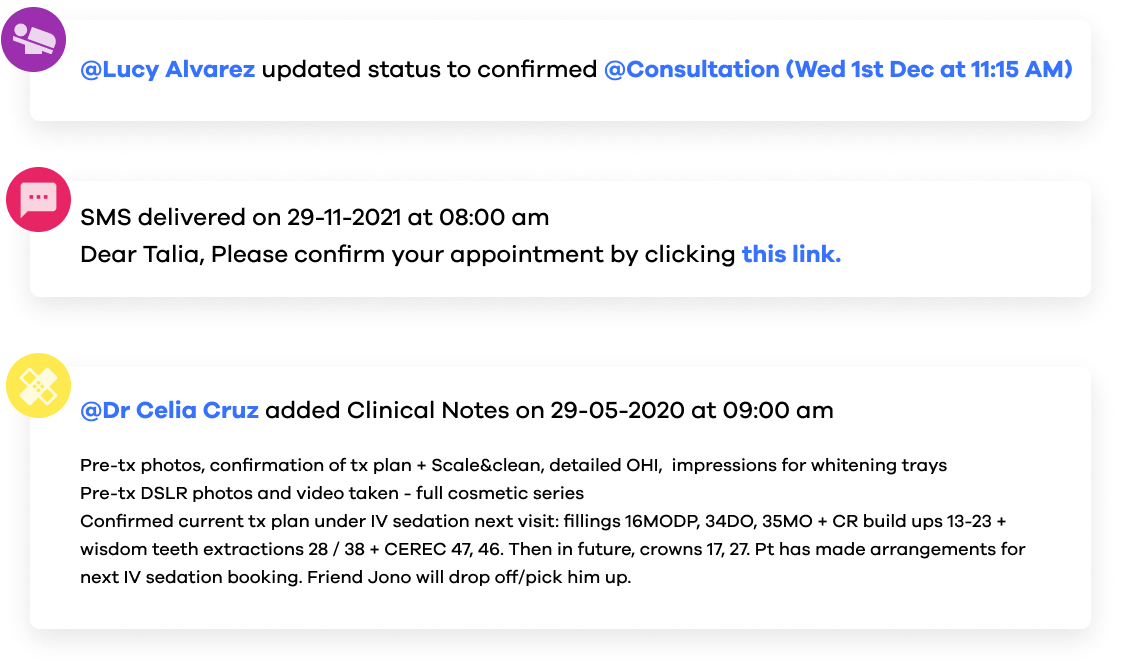 Principle has workflows focused solely on patient retention, helping you to keep the patients you've worked so hard for.
Gap Filling
A dedicated workflow that uses the most qualified patients to fill the gaps in your books.
Waitlist
A golden opportunity to gather patient availabilities as a mandatory part of the appointment booking process. Use that information to fill your gaps.
Follow Ups
Automated notifications to contact patients at the appropriate time after their missed or cancelled appointment.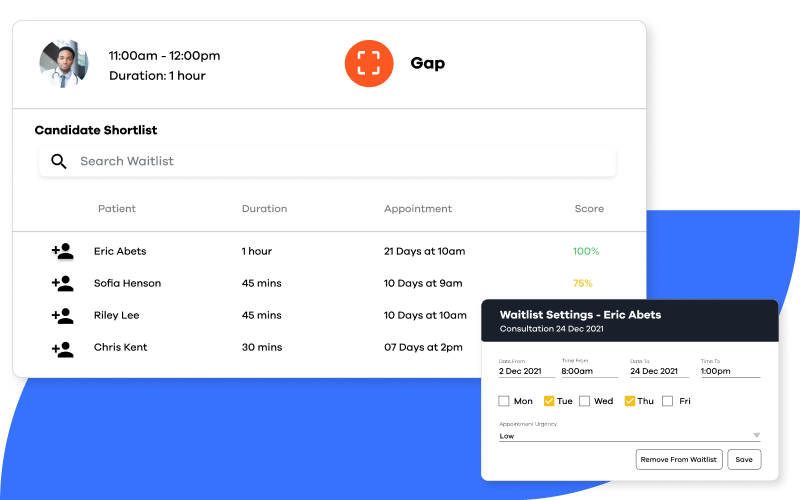 Seamless Case Presentation and Planning
.
Create treatment plans with ease. Chart conditions, identify all possible treatment options and present them in an easy-to-digest view where item codes and dental jargon are nested under treatment names, allowing for better patient understanding and higher case acceptance.
Treatment Planning & Flagged Treatments
Flag all possible treatments as you chart. Flagged treatments remain in the patient's history until patient acceptance or the condition resolves itself allowing you to use those opportunities for higher case acceptance.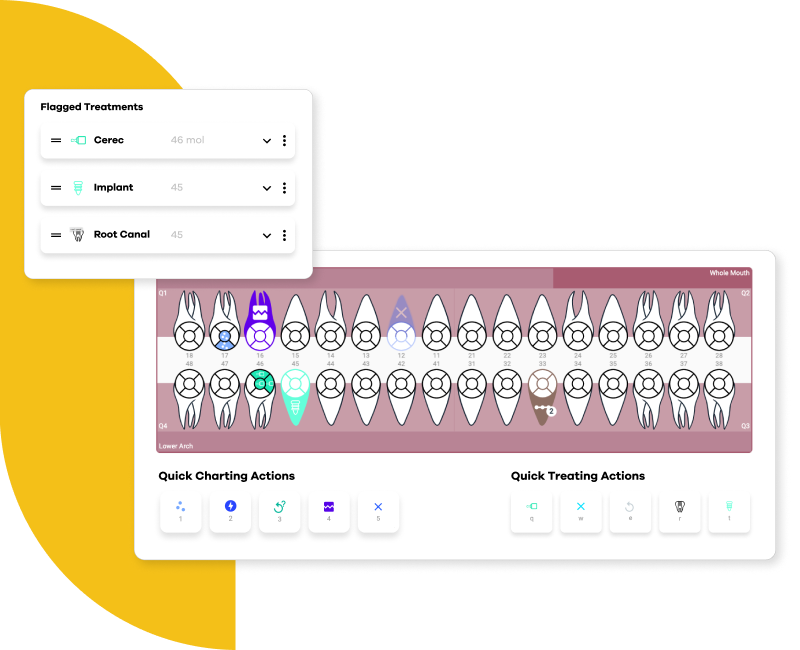 Principle's ecosystem captures all staff interactions – from lab job sign off, to task completion, communication tracking and more.
Task Manager
Assign tasks to your staff and have full transparency on when it's been completed and by whom.
Lab Job Tracking
Never lose a lab job again.
Lab Jobs are processed in Principle with the creator noting the status from sending to sent then received as it gets moved through the workflow.
Patient Communication
All patient communication is tracked in Principle, where the patient, the sender and any relevant notes are captured.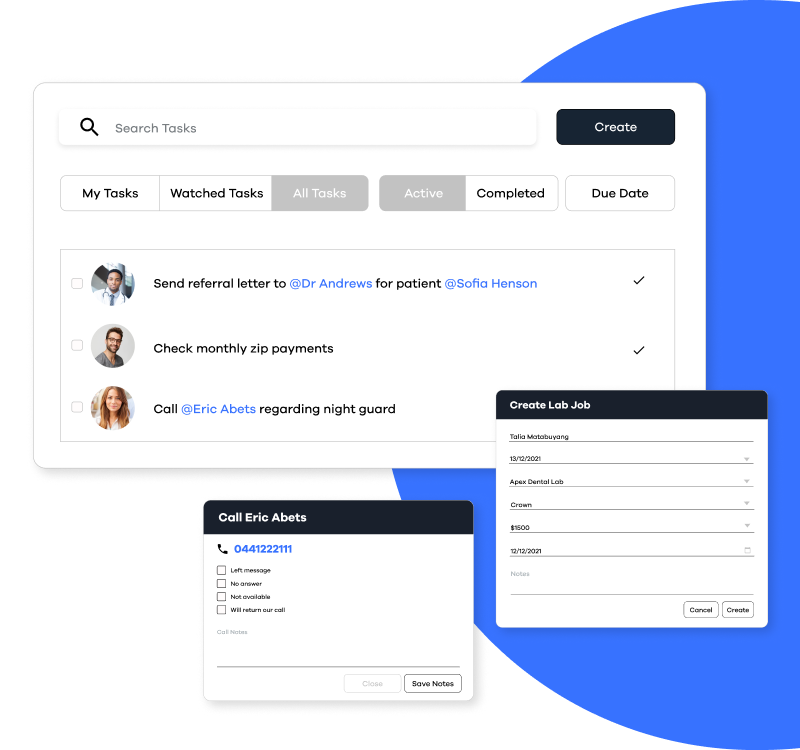 Intelligent. Efficient. Intuituve
Schedule appointments, accept online bookings, and access your calendar from anywhere using our beautifully simple design allowing you to manage your books with clarity and ease.
Smart Treatment Planning
.
Quickly create treatment plans, flag treatment opportunities, and save time using treatment templates.
Create bespoke reports with Principle's Report Builder, a simple to navigate, easy to understand tool that helps you to make better business decisions.
Never miss a step with our templated appointments. Create templates that include item codes, auto-generate staff tasks and send off SMS and emails to your patients for you – saving you precious time with every single appointment.
Automated SMS & Email Communication
.
Set and forget your SMS and email communications with our automations.
One centralised location for your tasks giving you full visibility of what's been completed by whom and when.
From clinical notes to treatment plans, accounts information, and everything in between, our Patient Profile makes sure you stay on top of every single detail.
Write letters and send emails in-app using pre-saved templates so you never have to copy and paste across email clients again.
In-app notes feature means no more copy and pasting from saved notes elsewhere.
Patients can book appointments and fill out forms directly in Principle, eliminating the need for third-party apps.
We have been using principle for the last 12 months as our clinic grew from 2 chairs into a large clinic. It has kept up every step of the way. I love the ease of use and how it just makes sense. It has a solution for every problem that we had as clinicians where other software platforms fell short. I can track my associates, create time sensitive tasks, have all of my inbound lab work monitored and generate reports on demand which allow me to track all our KPI's. We can communicate effortlessly with our patients and the user interface is reminiscent of a social media platform. Created by dentists for dentists. Can't wait to see future developments and the potential ways in which it will make life easier for me.
Principle really has revolutionised the way we do business.
After struggling with our old server-based system across two practices, we looked into cloud-based dental practice management systems available and came across Principle, who was looking for practices to beta-test their software.
We believed in their vision to change the face of dental practice management software and could see so many benefits for our business in terms of efficiency, reporting, and of course, enhancing our service to our patients.
The system is intuitive and easy to use, and the built-in automations and integrations save us literally hours every week.
We're so glad we made the change, and we have now tailored how we do business around Principle. We will never look back!
After using Principle for six weeks or so now, I'm starting to realise that a lot of things just make sense.